Our BLOG
Dear Friends of P.A.P.A – Bridge!
I would like to share with you the experiences and interesting travels of my trip to Kilema,Tanzania to our project of the occupational school (Vocational training centre).
Download: Besuchsbericht_Juli_2011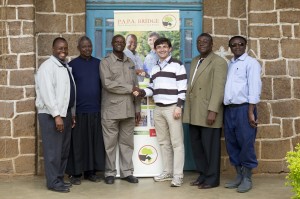 1) The most important mission of this trip was to get to know the nominated Director Mr. Pius Kessy and to discuss the next steps with him. Now of course is important for him to organise the teachers and the equipment. This is the essential main focus of the manager during the next months. Here are some photos:
2) Of course there was again a project meeting in Kilema village with all involved persons and the inspection of the building site. I can confirm that a lot has been done and we are confident that we will be able to finish the building by the end of 2011. Here are some additional photos:
3) Last but not least I would like to thank warmly Father Aidan and all our dear friends in the village who meet me over and over again with big hospitality.
PS: Please, we welcome you to the Africa Fest party on Sunday 14th August in Trag, Schwanberg where Aidan will be present. This is a great opportunity to get to know him personally.
Affectionately yours and wishing you God's blessing,
Walter Koch / Chairman P.A.P.A – Bridge